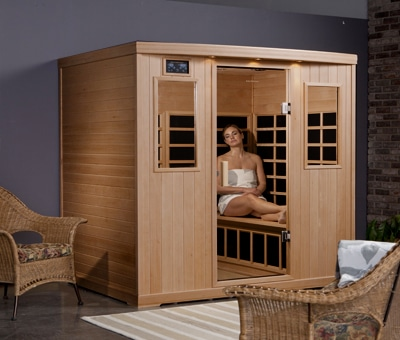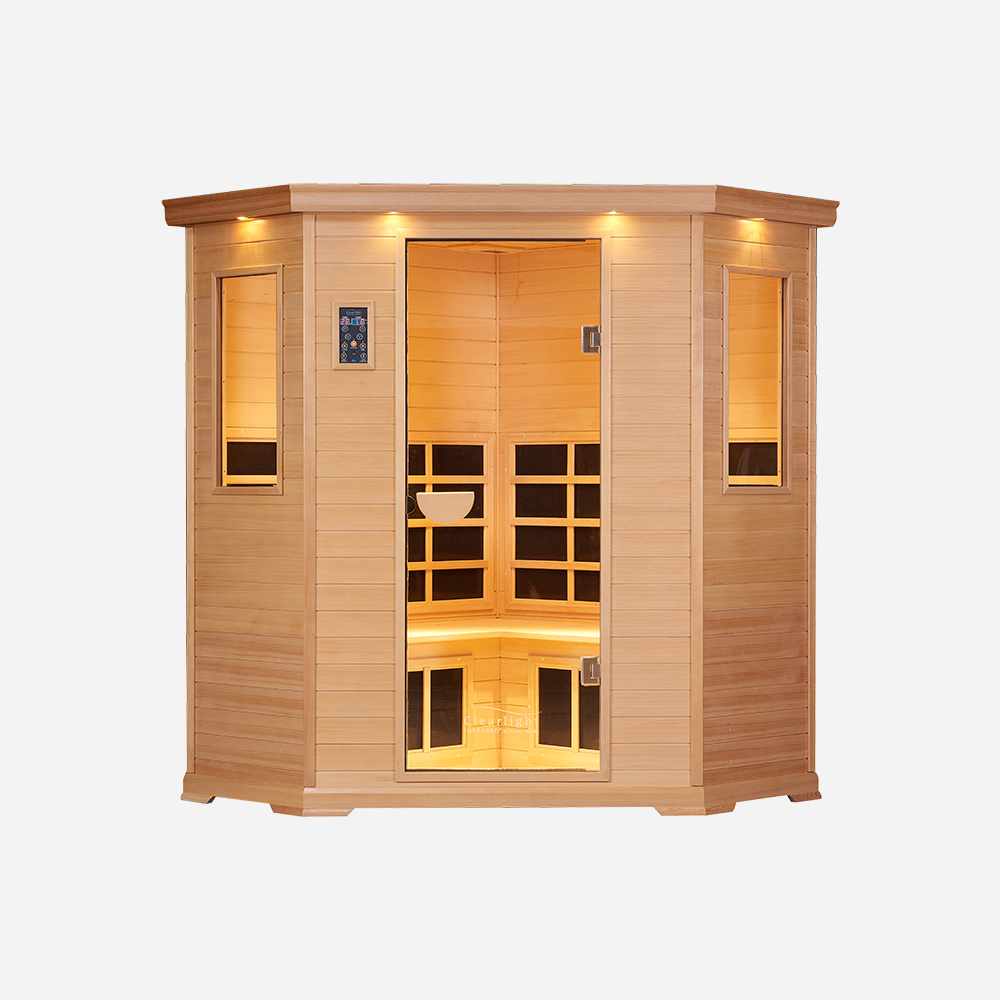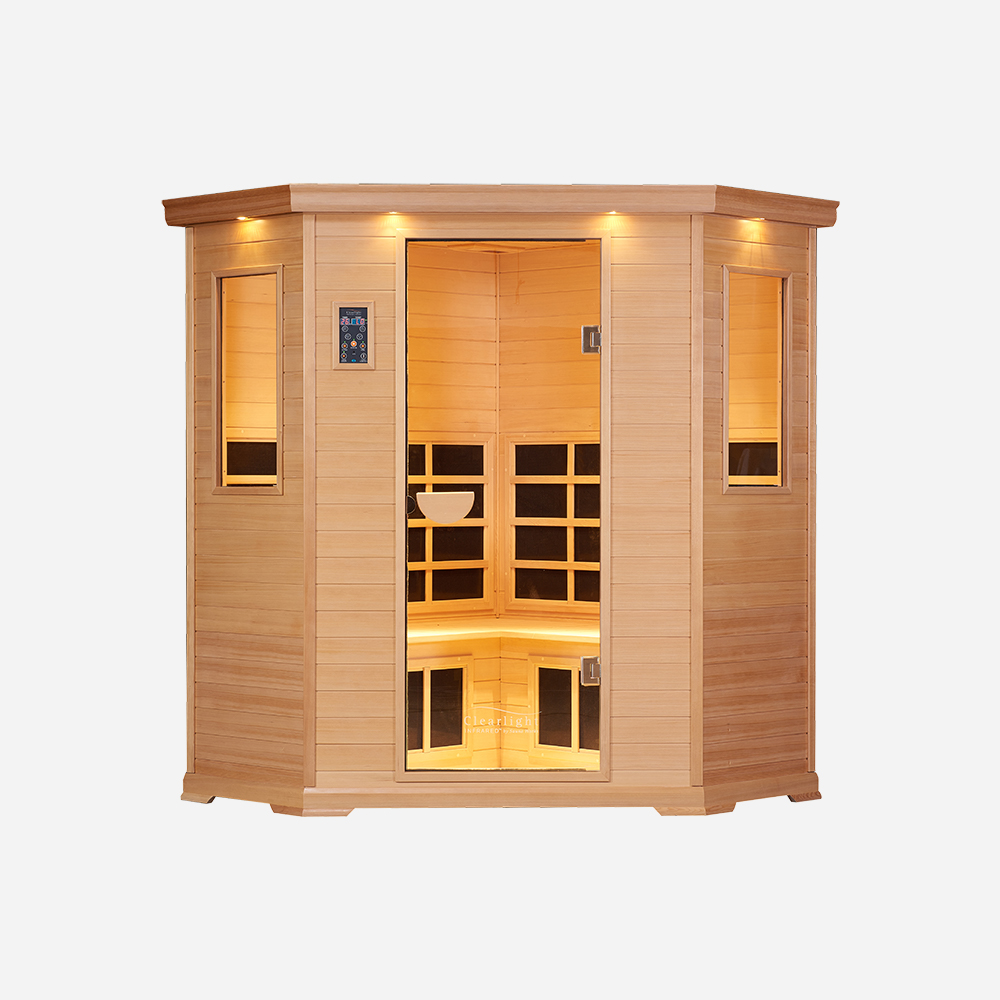 Lots of individuals are increasingly preferring to have an infrared sauna at home. While that is an excellent choice, a little research will lead to something called infrared sauna kits.
One of the first things you determine when deciding to get a sauna for home use is the budget. Second, of course, is space. You will also need to keep in mind shipping and installation costs. You also need to know how good the company's customer service is.
We recommend looking into the indoor sauna kits by Radiant Health or Clearlight and here's what you will find.
Radiant Health Indoor Infrared Sauna Kit
Radiant Health Saunas has one line of saunas called the Elite Series. These IR saunas have been made particularly with safety and efficiency in mind. They have been perfected and released after a lot of testing and feedback from practitioners and customers.
They are made of Canadian hemlock which is dried in a kiln to 6-8 percent moisture. This eliminates warping and cracking of the furniture. The exterior is made of biodegradable wood which gives it a grand look and is also easy to maintain. The wood itself is completely non-toxic as you would hope for a sauna. It has been tested by an individual company and was found to have zero volatile organic compounds or VOCs.
At 0.3 milligauss, these IR saunas have very low electromagnetic fields (EMF) and electromagnetic radiation (EMR) levels at the point of contact, which is excellent news. They use carbon flow technology and the heaters are in the ideal vital range of seven to 14.
The saunas also have extra heaters on the front walls so that heat is evenly dispersed to your body. The ceramic tile floor can also be heated and the glass doors are all deluxe tempered. It offers color therapy or chromotherapy which uses different colors for a different result each time.
But it's not all about the box called sauna. You also have a lovely entertainment station with this sauna which accommodates a CD/AM/FM player with an MP3/iPod connection that can be controlled with a remote. The speakers are conveniently mounted on the ceiling. It also has two control panels so that the sauna can be operated from inside and outside. There is a bench for you to be comfortable while in the sauna and there are wall-to-wall backrests too. There is a modular system that keeps all the major components safe together. It meets all the safety requirements and there is a five-year warranty on all the electrical components.
But the best feature is probably this. You can program it to start before entering the sauna. You will find these saunas ranging from one to four persons along with two corner models.
Clearlight Indoor Infrared Sauna Kit
Clearlight is another popular name in the infrared sauna business. They have two main lines of saunas—Essential and Premier. As you can imagine, Essential line saunas have everything you need and are quite functional whereas Premier saunas are a bit luxurious and offer a little extra even if for a few more bucks. Let's take a look at both.
Clearlight Essential Sauna
Let's start with some good news and proceed with more. If you are buying it for home use, you will get a lifetime warranty. The sauna comes with installation services and the line is known for its most effective infrared heating technology.
These are full-spectrum saunas, meaning they emit near, mid and far-infrared radiation. They claim to have the lowest EMF and ELF levels in the market and are suitable for all optional upgrades if you please. The heaters, which are built with True Wave technology, are placed evenly on the back wall, side walls and under the bench. Additionally, you will find them next to your calves and also in the floor.
The chromotherapy or color light therapy in these saunas, Clearlight claims, is medical-grade with an option of Vibrational Resonance Therapy for a little extra.
All the saunas in this range come with the best far-infrared heater technology. The cabins are made of grade A hypoallergenic eco-certified wood which makes it a great place for relaxation. The glass on the cabins is 8mm thick and tempered. You will need a standard 13-amp socket to plug-in the sauna.
The company also offers heaters as a kit to enable you to DIY. Here are the details.
Clearlight Premier Series
Much like the Essential series, Premier series saunas also come with lifetime warranty and installation services for residential use. They too are full-spectrum saunas with heaters that employ True Wave technology and have the lowest EMF and ELF levels.
The heaters are placed on the back and side walls, under the bench and in the floor. These saunas have standard chromotherapy lighting but they can be upgraded to medical-grade chromotherapy. The wooden cabins are made with eco-certified cedarwood.
This series comes with added benefits like a deeper bench and curved back support. There is also mood lighting in these saunas. You can also add Vibrational Resonance Therapy (VRT) that combines the benefits of sound and vibration for deeper relaxation.
Conclusion
Whichever model you choose, there are a lot of benefits. And we're not just talking about health. Installation, repair and customer service are also promptly done making this a great buy. Go on then. Make it happen. You know you want to.