The culture of saunas, steam rooms or hot baths, whatever your poison, has stood the test of time. You could even say it's one of those things that has somehow stayed around and yet is perceived to have come back in style in a sort of a hip, retro manner.
Today, saunas are a popular way to get rid of stress and a way to get some me time. But in the olden days, and we're talking thousands of years ago, saunas were a place to gather and socialize. Sauna bathing has evolved in different parts of the world depending on the culture of the place and people but has still stayed true to its purpose. Using heat to sweat it all out.
Anything that sticks around for such a long time tells us one thing. That it is essential, useful and entertaining.
Types of Saunas and Their Benefits
Over time, the technique has improved quite a bit. Nowadays we have elaborate saunas that you can use in spas and gyms or compact ones to take home, even if you live in a tiny studio apartment in New York City. For that purpose, we use infrared saunas that use light to increase your body temperature and cause you to sweat. These saunas are fitted with infrared lights that do not heat up the room but warm your body directly. They operate at low temperatures which are usually between 150 to 180 degrees Fahrenheit.
Near-infrared saunas are a combination of light and heat therapy. According to NASA, the light from these saunas can reach up to nine inches into your tissue. They also emit radiation of a very low level of electromagnetic frequency which is good for you. Unlike far-infrared saunas which emit powerful and often harmful levels of EMF. Near-infrared radiation allows the air to be cool while the body is being heater directly by the light in the sauna. This is unlike traditional saunas that use heat to make you sweat. As a result, the entire room is hot and can be a bit unbearable.
A couple of short sessions a week in the sauna also has some health benefits. It helps you relax, helps you sleep better, gives relief to your sore muscles and even helps with arthritis. Your blood circulation improves and it is also good for people who have chronic fatigue syndrome. These are just a few benefits.
Near-infrared saunas are a popular choice among those who like regular sessions. These saunas use near-infrared radiation (instead of far-infrared radiation) keep the electromagnetic frequency (EMF) levels quite low. Their tissue penetration is quite high which means you don't have to spend too long to see the benefits you want.
The Best Picks in the Market
Here's a look at three of the top sauna manufacturers and the best of their near-infrared saunas. All three companies—Saunaspace, SaunaFix and Cedarbrook keep in mind that more and more people are opting to buy saunas for their homes. This way, they get to squeeze in a sauna session whenever they want without having to worry about driving to the spa or a gym on that one day when you get some time off. I mean, sometimes the traffic during the drive back is enough to undo all the stress relief from a session.
#1 120V Faraday Cage Sauna by SaunaSpace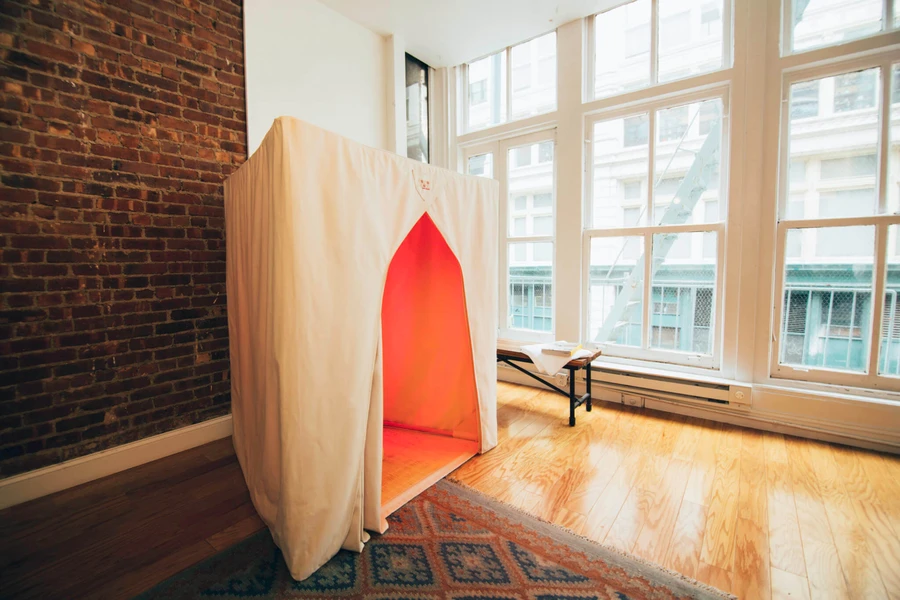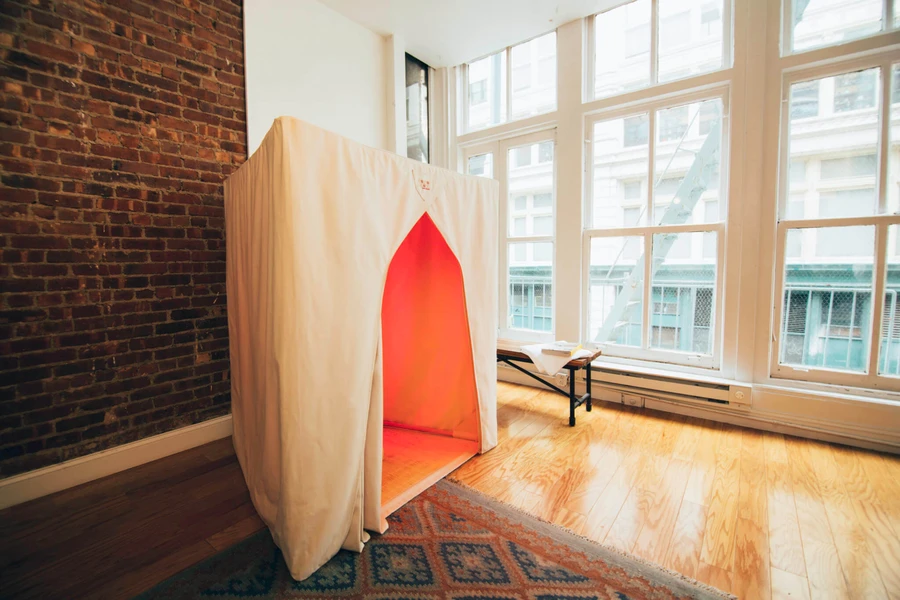 This is part of the original Faraday design by SaunaSpace but it is a new and improved second-generation sauna. It is affordable and more comfortable when compared to the previous models. The sauna itself is made of non-toxic and non-treated materials which is good for your health and the environment. The canvas is certified as 100% organic and the enclosure material is hypoallergenic. And it is also easy to clean because the material is machine washable.
The tungsten lamps inside the sauna which are responsible for the heating are guarded with stainless steel. They are not powder coated or treated which, again, is good for your health. This makes them non-off gassing. This means that the sauna does not contain any toxic chemicals which evaporate over time and become a reason for several health hazards.
It is compact and fits great in a house even if it requires you to have a little space. It weighs about 67 pounds and can be assembled without any tools. It is collapsable which makes it easy to move, both inside the house and if you are moving places. It has an adjustable tungsten panel. So you can keep moving the source of heat depending on which part of the body you think needs attention. It is also helpful if you want to adjust your posture and change the way you are sitting during a sauna session.
Specifications
The total weight is 67.5 pounds. The width of the entrance is 52 inches. The width of the rear is 24 inches. The tent has a depth of 52 inches and a height of 63 inches.
It is made of North American basswood and the tungsten bulb shields are made of stainless steel. The organic cotton canvas used in the sauna is certified by the Global Organic Textile Standard (GOTS). The magnetic field (MF) rating is 0 mG and the electric field (EF) rating is 0 V/m. The overall voltage is 110-240 VAC. The sauna's plug type is USA, UK, Euro, Swiss or AU/NZ.
Pros
The canvas is organic which makes it sustainable and pure.
It is lightweight and collapsible.
You don't need any tools to assemble this piece.
It is made of non-toxic materials.
The wood used is hypoallergenic.
Cons
It is slightly bigger than other models made by its competitors.
It is a little bit on the expensive side for what it offers.
It is not available on platforms like Amazon.
Buy here.
Near-Infrared Cedar Sauna Kit by Cedarbook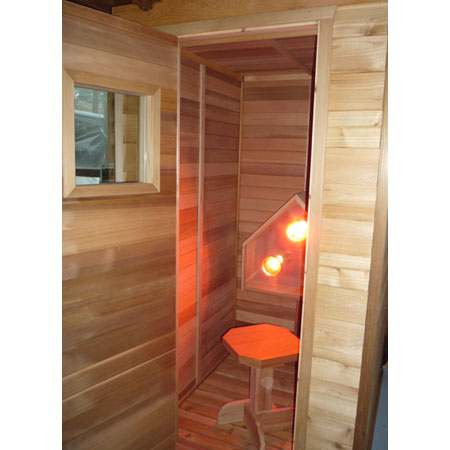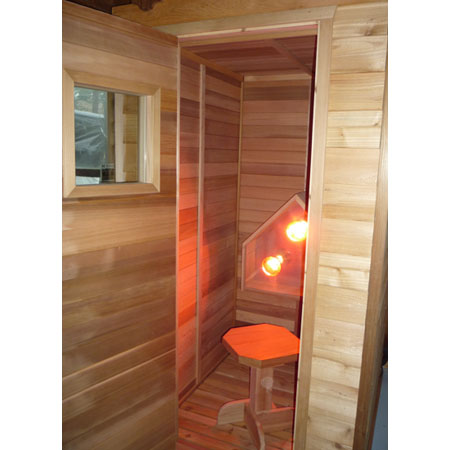 This is an instant heat sauna which boasts of giving you all the health benefits of a near-IR sauna. It is made for one person and has pre-built panels. There are three bulbs emitting infrared light and are placed in a box. The main door has a glass window and the sauna comes with a rotating stool or a cedar bench.
The sauna is made of 100% western red cedarwood including the frame, which means no plywood anywhere. The wooden walls seal the heat giving you the maximum benefit.
Specifications
The insulated panels are 2×2-inch frames with a reflective sauna foil vapor barrier behind the tongue and groove. The pre-built stool is 18×18 inches. The insulated door has a 13×13-inch window. There is a 2×2-inch hole in the wall panel below the lightbox for the 110-volt cord. The interior measurements are 36 inches x 42 inches x 6 feet 2 inches. The exterior measurements are 40 inches x 46 inches x 6 feet 4 inches.
Pros
It is made of western red cedar which produces fewer greenhouse gases and generates less air and water pollution.
It is a spacious sauna for one person.
The rotating stool allows you to move in all directions and get heat around your torso.
It comes fully equipped and does not require you to buy any further accessories.
It is compact enough to fit in a smaller space.
Cons
The wooden frame makes it slightly inconvenient to move it around.
There is no facility to add music or other electronic accessories.
The lamps are not distributed on the walls of the sauna so that the heat reaches your body without you having to move around.
It is a bit expensive for the limited features it offers.
It is not available on e-commerce platforms like Amazon which means you will not discover it unless you expand your (re)search radius.
Buy here.
Portable Near Infrared Sauna Lamp and Tent by Sauna Fix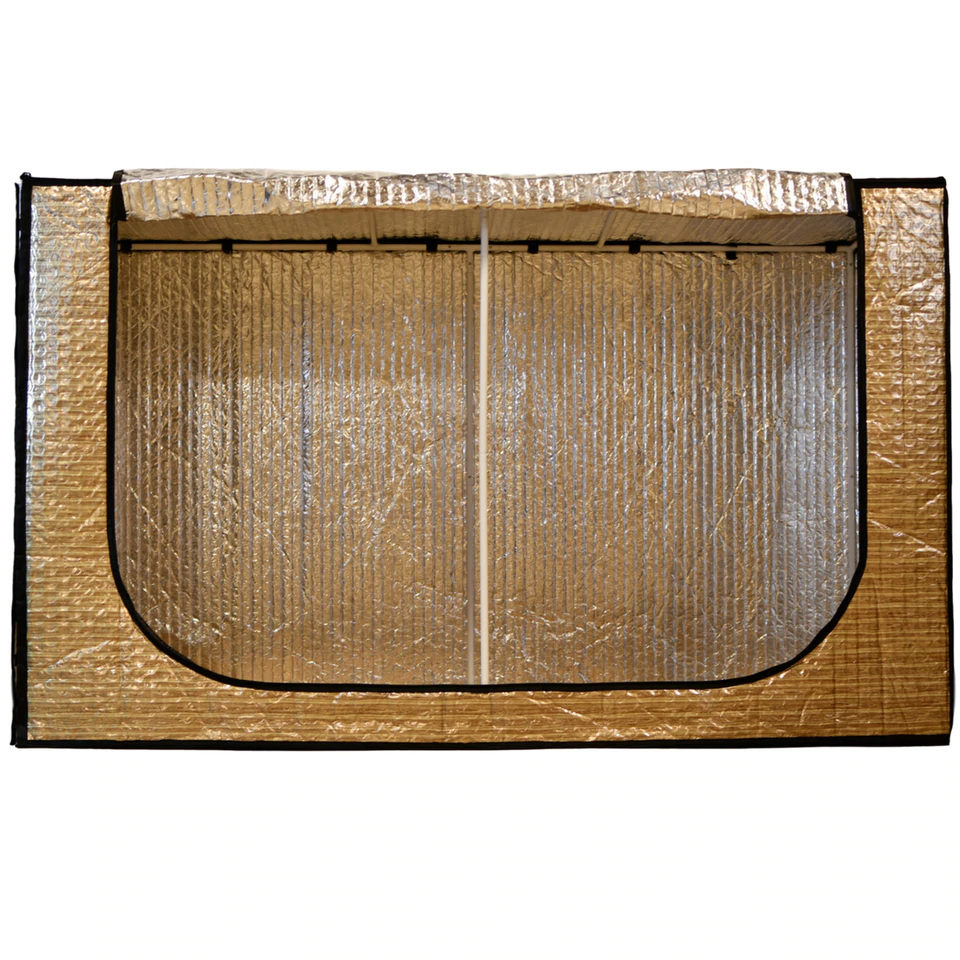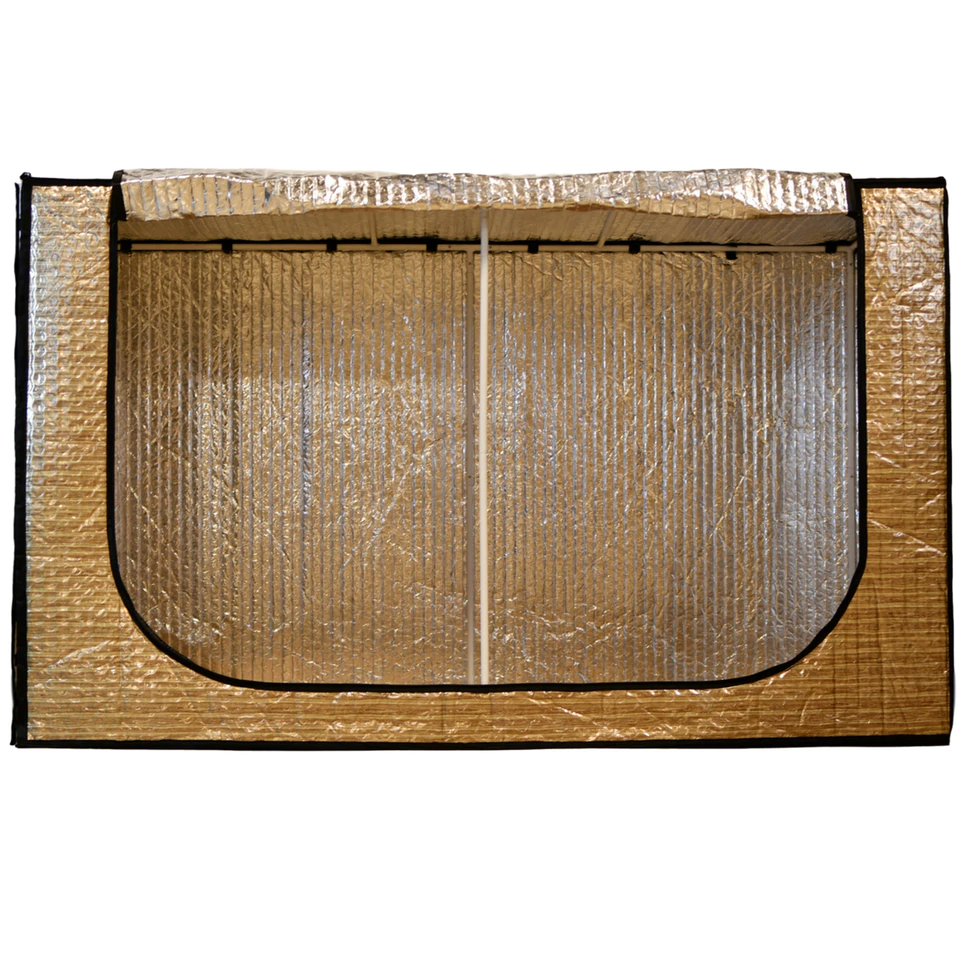 This is more new age and keeps the requirements and space limitations of the 21st century in mind. It is a tent sauna with some near-IR lamps. It is extremely convenient and great if you live in a place like New York City in a studio apartment with not too much space. It's basically a convertible. You can stand, sit or lie down here during your sauna session. There are a variety of bulbs to choose from for this sauna.
The lamp gives out red and near-infrared lights to which the body responds quite well. You can experience a constant side-to-side rotation of the lamps with Sauna Fix.
Specifications
The sauna has a depth of 13.5 inches, width of 17 inches and height of 23 inches. The convertible tent is 47 inches long or deep, 35.43 inches wide and 78 inches tall or high when you are standing up. It is 78 inches long or deep, 35.43 inches wide and 47 inches tall or high when you are lying down.
Everything from the wooden grain film to the film is made of non-toxic materials. The film is a polymer and only gets mildly warm to the touch. The tent poles are steel and powder coated in non-toxic material. The door zipper is double sided and has a single pull. The zippers are also non-toxic. It has four red heat lamp bulbs. It has radiant tent panels. It has two bamboo mats. You also get a bag for the tent frame.
Pros
All the raw materials are non-toxic.
The tent is easy to inflate and is collapsible. You just need to screw the threaded light guards onto the base of the lamp and you are good to go.
It's a tent so you don't need to think about storage space.
It is lightweight and self-supporting.
It can be carried around quite easily since it comes with a travel bag.
Cons
For this price, you could get a sturdy wooden sauna.
It is not easy to find even on the website.
It does not come with a bunch of accessories.
It's a pretty big tent for something that could've been a space saver.
Buy here.
Luminati (Formerly Called Pocket Sauna) by Sauna Space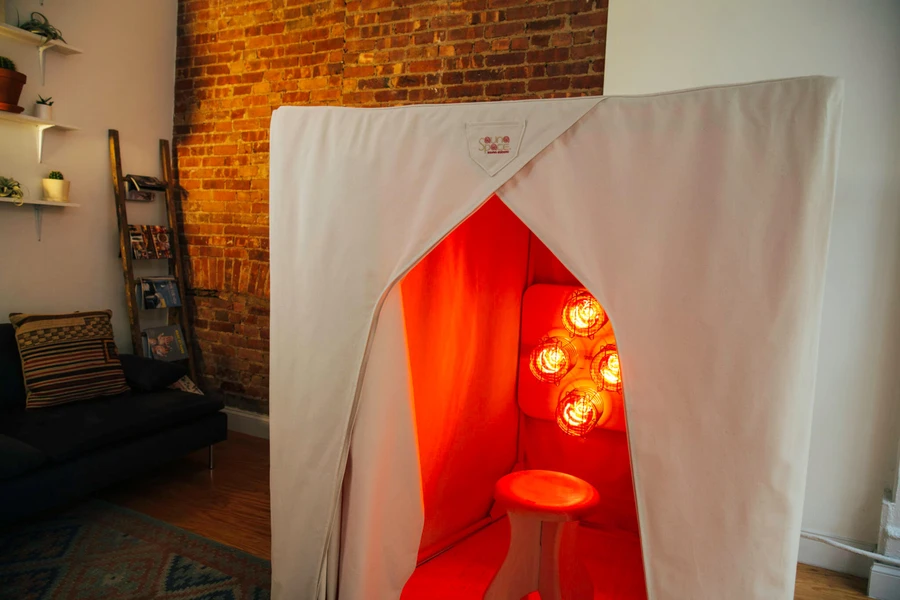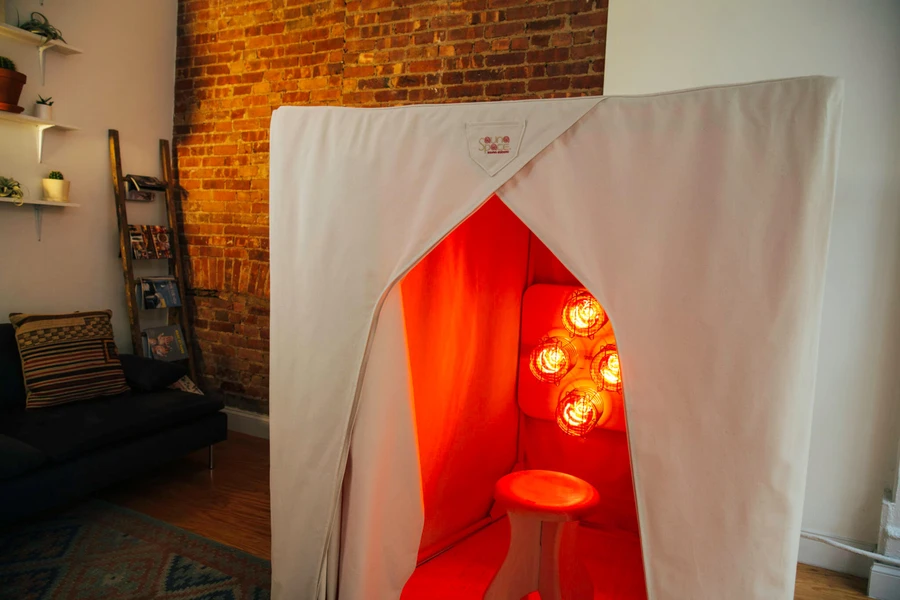 This is another one from SaunaSpace. It has red-filtered incandescent lighting and features their proprietary ThermaLight technology. It is a full spectrum sauna but the near-infrared radiation is therapy grade and it is designed to stimulate the mitochondria in your cells that generate most of the chemical energy you need to allow the cell to perform its biochemical reactions.
The sauna does not have UltraViolet radiation or blue light which must come as a huge relief to you. The EMF level is a healthy zero, although some manufacturers argue that a sauna with zero EMF cannot be made.
This sauna is designed for healing and stress relief. The sauna itself is made of sustainable North American basswood and is completely safe. The wood is not treated with any chemicals or oils preventing the chances of outgassing. That means it does not produce chemicals when it reacts with the heat of the sauna and results in harmful fumes which may turn into a health hazard for the customers.
It is made in the USA and has stainless steel faraday shields that are not powder coated or treated in any form. The bamboo top of the floor mat is untreated. The enclosure materials are hypoallergenic and sustainable.
Specifications
The total weight of the sauna is 67.5 pounds. The light panel weighs about 15 pounds. The frame is about 11 pounds. The entrance is 52 inches wide and the rear is about 24 inches wide. The sauna is 52 inches deep and 63 inches tall. The magnetic field (MF) rating is 0 mG and the electric field (EF) rating is 0 V/m. The voltage is 110-240 VAC
Pros
It is lightweight for a sauna of its size and is easy to assemble and take down.
The tungsten panel is fully height adjustable.
It has been tested for safety.
The raw materials are non-toxic and sustainable.
Cons
It is larger than the other one-person saunas in the market.
It is cheaper than the other model from SaunaSpace but still relatively expensive.
Buy here.
Infrared Sauna + Near-Infrared Light by Cedarbrook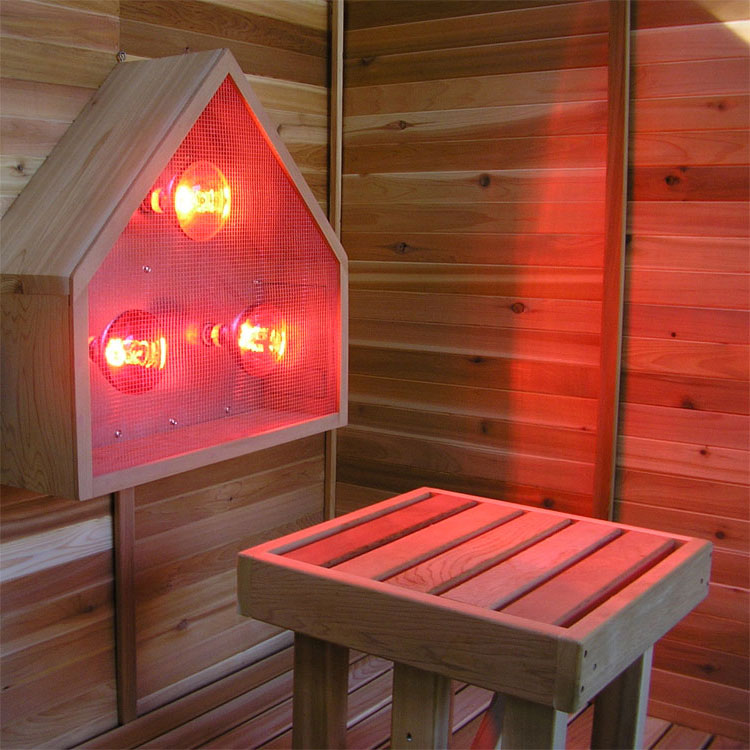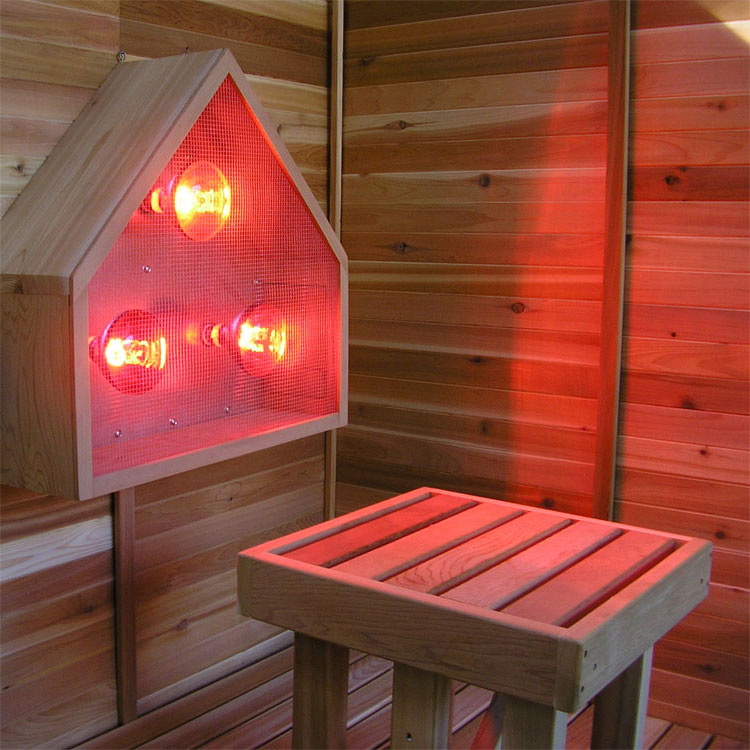 This is another instant near-infrared sauna from Cedarbrook. It is heated with near-infrared radiation and is also 100% made of western red cedar. So once again, no pressboard or plywood is used in the making of this sauna. It has pre-built and insulated panels on the walls and the ceiling of the sauna room.
The sauna heat room itself is 4×4 inches big, which means it is for one person. It also means that this is compact enough to fit wherever you want to keep a sauna.
It has a pre-built infrared lightbox which is the source of heat. There is a door, also made of western red cedar with a glass window. The sauna comes with a rotating stool or a cedar bench.
Specifications
The insulated panels are pre-built with western red cedar. The frame is 2×3 inches and has a reflective sauna foil vapor barrier behind the cedar tongue and groove. The tongue and groove are tight knot on the inside and bevel siding on the outside. The rotating stool is pre-built and 18×18 inches. The pre-hung cedar door has a 13×13 inches window that swings left or right. There is a double insulated window option in several sizes. The floor has a duckboard grating kit. There is a 2×2 inch hole in the wall panel under the lightbox for a 20-inch 110-volt cord. The interior measurements are 4 inches x 4 inches x 6 inches and the exterior measurements are 4 feet 8 inches x 4 feet 8 inches x 6 feet 8 inches.
Pros
Western red cedar wood is sustainable and there is a lesser chance of outgassing.
The panels are all insulated. The window has a double-insulated option.
The door-window is removable.
It comes with a stool.
The interior height can be adjusted.
You can also add a cedar tray to protect your carpet or wood flooring.
Cons
Expensive for a one-person sauna.
Might not be available on popular platforms of your choice.
The wooden make can be tricky to ship and assemble.
You will need tools and possibly some help.
Buy here.
Home Near-Infrared Hot Yoga Studio by Sauna Fix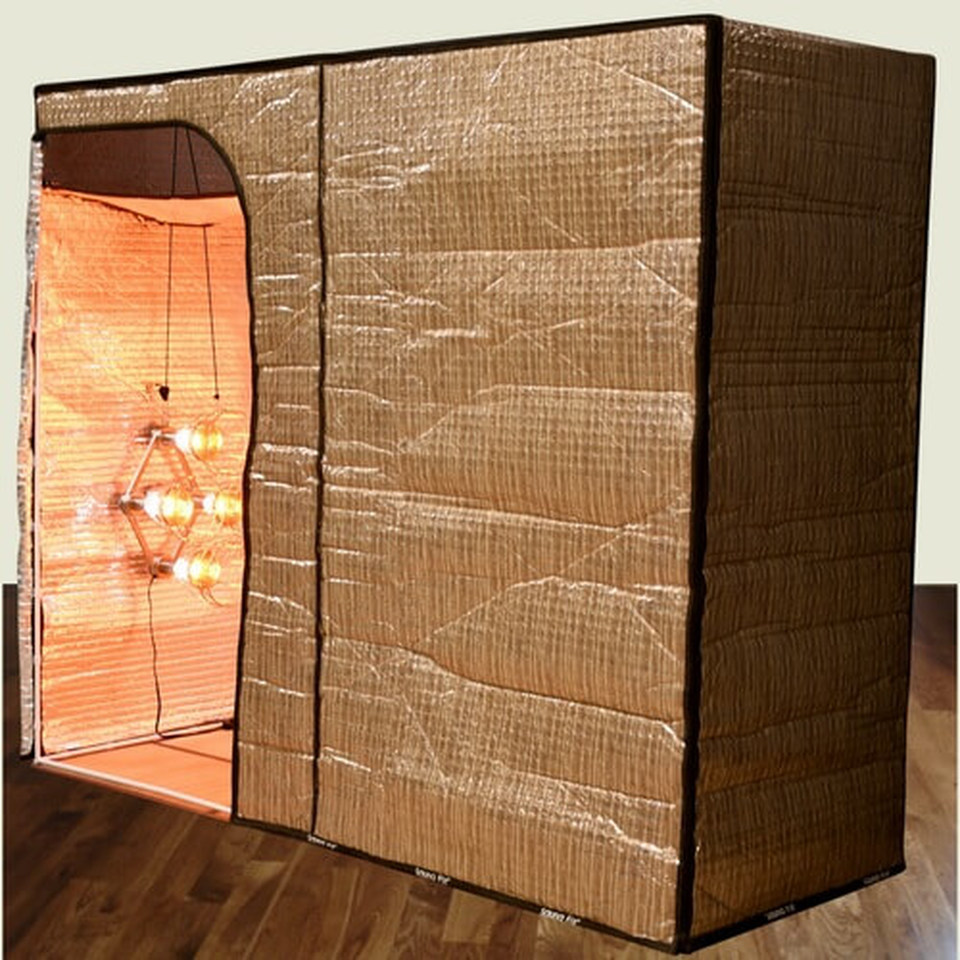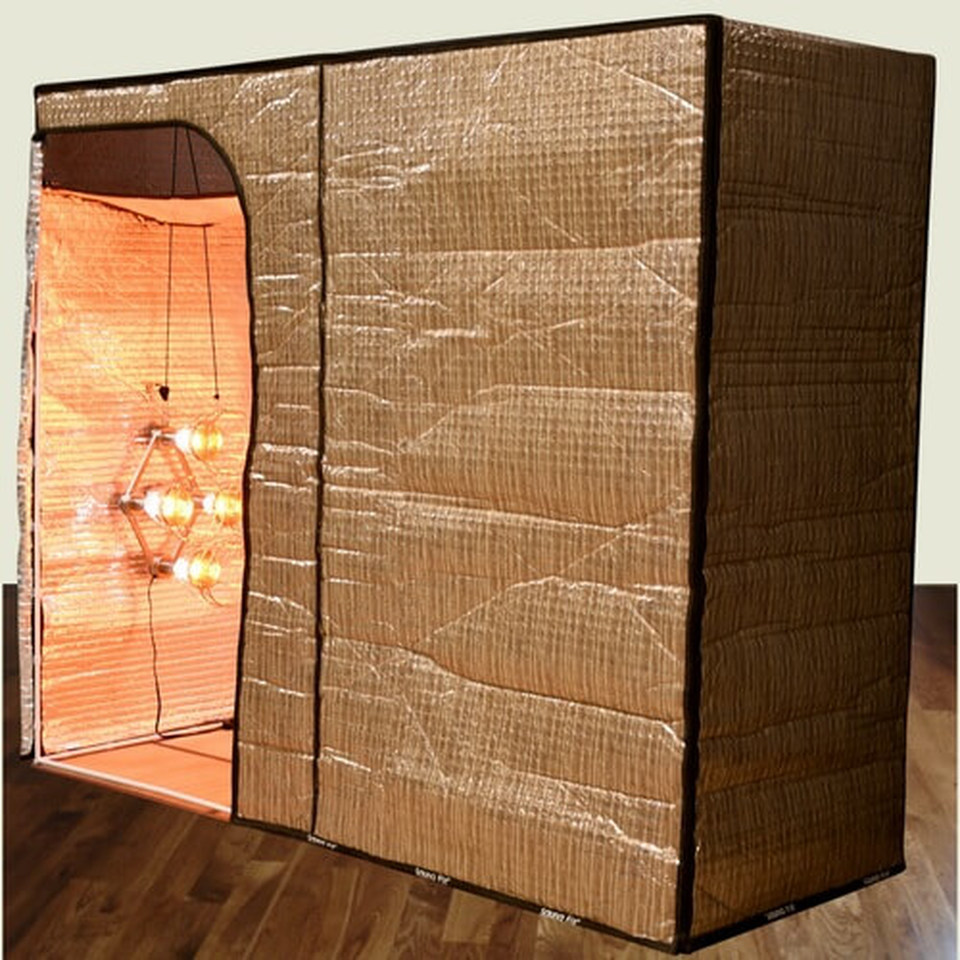 Here's an interesting premise by Sauna Fix if you are new to the world of saunas. Have you ever thought of doing yoga inside your sauna? Well, that's not an insane idea because Sauna Fix has made this model with exactly that in mind.
Their pitch is that you can combine two activities, saving the time and money you put into a spa and a yoga trainer while getting the benefits of both, all in the convenience of your own home. The Home Hot Yoga Bundle, as it is called, comes with a hot yoga tent and some bulbs which emit near-infrared radiation. The tent is large enough for you to do any position and you might even be able to share it with another person if neither of you is doing elaborate gymnastic-level yoga.
When the guards are screwed on, the sauna is about 13.5 inches deep, 17 inches wide and 23 inches tall.
Specifications
Full-size tent dimensions—94.5 inches long or deep; 78 inches tall or high, 35.43 inches wide. When the middle or vertical partition is inserted and used in the standing position you get two chambers, each of which measure 47.24 inches long or deep; 78 inches tall or high; 35.43 inches wide. The sauna is made using listed and recognized components. It meets the federal safety requirements for all assembled fixtures. It is made of a proprietary blend of non-toxic polymers and metal which makes it safe to touch. There is no outgassing or toxicity when the sauna is in use.
The panels have an R12 insulation value with a class A fire rating.
Pros
It is a tent so it is easy to assemble and takedown.
You don't have to worry about storage space since it can be disassembled once you're done using it.
All raw materials are non-toxic.
There is no fear of outgassing when the sauna is being used.
It meets all safety standards.
It generates as little electromagnetic frequency as possible.
It comes with a pair of near-infrared and blue light protection glasses that guard your eyes from the powerful IR light.
You don't have to pre-heat the sauna. It is ready when you are.
Cons
It is big for a collapsible item.
It is pricey for the features it offers.
There is no scope to add accessories like a music station, etc.
It is not available on e-commerce sites like Amazon so you will find it only if you do research outside of the popular website.
Buy here.
Some Precautions
A sauna at home can be a factor of great relief but there are a few things to note before you jump into it. Sauna sessions, as wonderful as they are, with all the health benefits and such are not exactly for everyone.
But if you take a few precautions, you will be good to go.
Do not enter a sauna when you are drunk.
Do not go in if you are pregnant.
Do not enter a sauna if you have a heart condition.
Do not go into a sauna hoping to lose weight. Whatever you lose is essential minerals in the form of sweat and you will gain the weight back because you have to hydrate before and after a session.
Do not take a really cold shower immediately after a sauna session. That disturbs your blood pressure levels.
Do not spend more than 20 minutes in there. Lesser than that if you are a beginner.
These are just some of the things you need to keep in mind before jumping into a sauna. You might want to consult your physician if you have pre-existing health conditions or are pregnant. But otherwise, a couple of sessions a week can give you pretty great results.