While infrared saunas are excellent for relaxation and rejuvenation, and offer a host of health benefits, the most compelling reason to buy an infrared sauna for your home is the natural pain relief it offers. For years, medical practitioners have been recommending the use of infrared saunas because of the proven relief they offer from various pain related issues such as arthritis, fibromyalgia, chronic fatigue syndrome, sports injuries and other conditions causing chronic pain.
The infrared heat produced by the sauna penetrates the muscles, tissues and joints in the body and provides therapeutic benefits by increasing circulation and oxygen flow. The infrared heat reduces the soreness on the nerve endings and muscle spasms, helping the body to heal naturally.
Over the years, it has been seen that infrared sauna therapy has proven effective in pain management for various ailments. Some of the conditions where infrared sauna therapy has been used for pain relief successfully include:
Joint Pains
People suffering from autoimmune conditions such as ankylosing spondylitis and rheumatoid arthritis find it a struggle with pain management that usually comes along with huge side effects. However, infrared sauna therapy can provide pain relief without any negative consequences.
Fibromyalgia
Fibromyalgia is a condition where you feel pain throughout the entire body. Studies reveal that infrared sauna therapy not only helped to relieve the pain during the treatment, but the pain was significantly lesser even several months after the sauna treatment ended.
PAD (Peripheral Arterial Disease)
People suffering from PAD have severe pain in the lower legs because of reduced blood flow and oxygen and the pain can get worse with walking. However, Japanese researchers discovered that with just 15 minutes of infrared sauna therapy every day, the pain was significantly reduced and the patients were able to walk 2x the distance without experiencing pain.
There are several infrared sauna brands, models and types in the market. However, it is seen that the infrared saunas from Radiant Health and Clearlight have been found to be particularly effective in reducing joint pains. In this article, we have reviewed Radiant Health and Clearlight infrared saunas so that you have sufficient information to decide which one to purchase for relief from joint pain.
Radiant Health Saunas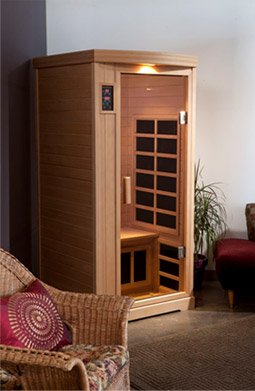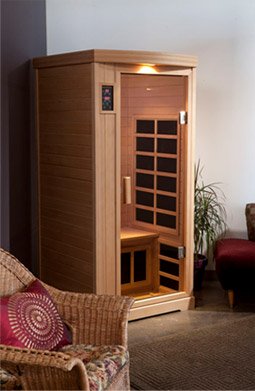 Radiant Health Saunas has been in the market since 1997. The company was founded by Randy Gomes with its headquarters in Vancouver, Canada. With a prominent presence in the infrared sauna market, Radiant Health saunas are available in the US and Canada.
Recommended by doctors, Radiant Health Saunas are designed for home, practitioner-based and commercial use. The Radiant Health saunas have been designed keeping in mind maximum safety and optimal performance.
Radiant Health Saunas have been tested by 3rd parties which have certified that the sauna has very low EMF and EMR levels and zero VOCs, making them one of the best infrared saunas available. Manufactured according to the highest quality standards, Radiant Health Saunas is the leading infrared sauna manufacturer, making it among the most trusted brands.
Radiant Health Sauna Product Range
Radiant Health manufactures a wide range of infrared saunas that offer excellent relaxation and natural relief from stress. The sauna models have been specially crafted to maximize both safety and efficiency and you can choose a model depending on your needs and space requirements. The infrared sauna range from radiant Health includes:
Elite Model: For 1, 1, 2.5, 3 and 4 persons
Corner Elite Model: For 3 and 4 persons
Radiant Health Sauna Features
All the infrared saunas manufactured by Radiant Health are of the highest quality and include the following features:
The saunas are made from kiln-dried Canadian hemlock, which has 6 to 8% moisture content that prevents cracking and warping and meets furniture standards
The sauna exterior has a biodegradable wood treatment finish that is very easy to maintain and also offers a premium look
CarbonFlow heating technology
Carbon fiber heaters (emits between 8.4-9.4 microns)
100% non-toxic, zero VOCs
Very low EMR and EMF (around 0.3 milligauss)
Ceramic tiled heated floor
Tempered glass doors
CD/FM/AM player
Ceiling mounted speakers and remote control
2 control panels (inside and outside the unit)
Delayed start
Color light therapy
Enhanced bench support
Interior cup holders
Wall-to-wall brackets
ETL-certified in Canada and USA
5-year warranty on electrical parts
Lifetime warranty on wood and heaters
Clearlight Infrared Saunas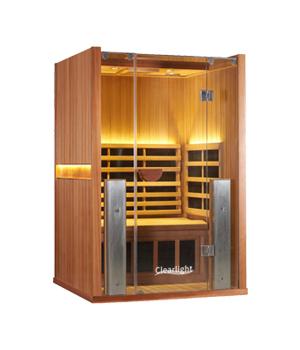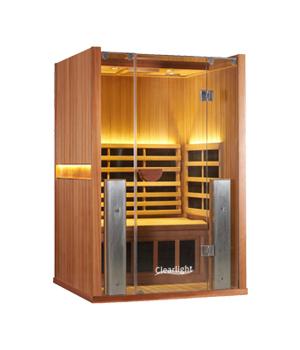 Clearlight Saunas was founded by Dr. Raleigh Duncan, a chiropractor in 1998. A pioneer of low and no EMF heaters, Clearlight's infrared saunas are of the highest quality and craftsmanship. All Clearlight infrared saunas are hand crafted and are made from the highest quality close grain wood. All the sauna models feature hand-crafted handles and trims, hand-sanded panels and do not make use of toxic glues.
All Clearlight infrared saunas are equipped with low-EMF True Wave full spectrum infrared and ceramic/carbon far infrared heaters that are manufactured by the company and all the sauna models have ELF canceling technology. All the Clearlight saunas are ETL and CE certified and undergo 2 levels of quality control. Clearlight has also partnered with the reputed company, Jacuzzi and all the Clearlight saunas have the Jacuzzi logo.
The beautifully designed and well-made Clearlight saunas are guaranteed to take your healing and therapeutic experience to the next level. The infrared saunas are so beautiful that they can fit into any kind of home décor and they can also be installed outdoors. Available to suit your varied needs, Clearlight saunas are available in different sizes that you can enjoy with your family and loved ones.
Clearlight Saunas Product Range
Clearlight saunas are available in a wide range of models including:
Clearlight Sanctuary Full Spectrum Infrared Saunas: Sanctuary 1, Sanctuary 2, Sanctuary 3, Sanctuary Yoga, Sanctuary Corner and Sanctuary Retreat.
Clearlight Premier Far Infrared Saunas: Premier IS-1, Premier IS-2, Premier IS-3, Premier IS-C and Premier IS-5
Clearlight Sanctuary Full Spectrum Outdoor Saunas: Outdoor 2 and Outdoor 5
Clearlight Essential Far Infrared Saunas: Essential CE-1, Essential CE-2, Essential CE-3 and Essential CE-S
Build Your Custom Sauna: Clearlight also offers customization, where they build the sauna according to the space in your home or workplace. They can also convert your existing traditional sauna into an infrared sauna.
Features of Clearlight Saunas
Made of Western Red Canadian cedar or North American basswood that are eco-certified
Furniture quality sauna cabins
Tongue and groove construction
Glass front and ceiling
Ergonomic reversible bench
True Wave low EMF and low ELF heaters
Dual digital controls (the lights, time and temperature can be controlled from inside and outside)
In-built charging & audio station
Accent LED lights
Bluetooth/MP3 connection
Chromotherapy lighting
Limited lifetime warranty
So, now that you have read and understood how infrared sauna therapy can help to reduce joint pain and other ailments, it may be a good idea to try it out. And, with Radiant Health or Clearlight saunas, you can experience the therapeutic effects of infrared sauna therapy right in the comfort of your own home.