Whenever you hear about a sauna, the first thought that comes to mind is instant relaxation. A portable infrared sauna is a great investment that offers an excellent opportunity to enjoy the health benefits and relaxation of a sauna, anytime and anywhere in complete comfort.
Portable infrared saunas have a convenient design, heat up very quickly, are easy to set up and extremely simple to use. Now, you can relax and sweat it out in the comfort of your home and detoxify your body to stay healthy.
What Is a Portable Infrared Sauna?
Basically, a portable infrared sauna is a portable device that uses infrared light to create heat. The heat makes you perspire and provides detoxifying effects. Since the infrared sauna is portable, you can install it wherever you want and you can even carry it with your anywhere you wish.
The infrared sauna produces the same effect produced when you exercise and raises your body temperature. The portable infrared sauna works to raise your body temperature by heating the air around you and offers health benefits, detoxification, relaxation and more.
There are several brands of portable sauna models; however, in our article, we will discuss in detail, the top 3 portable infrared saunas that offer the best detoxifying effects.
---
Top 3 Portable Infrared Saunas for Detox
Relax Sauna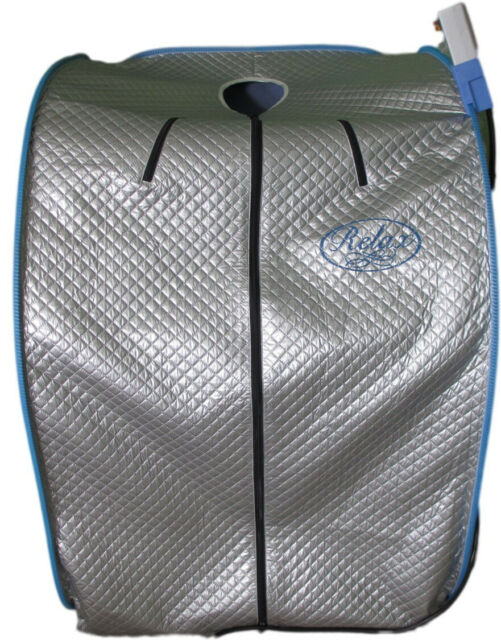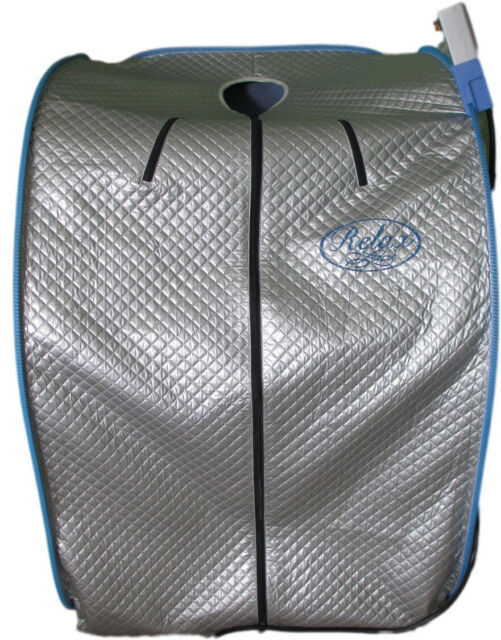 If you're on the lookout for an advanced portable infrared sauna, then the portable personal sauna tent from Relax Sauna is an excellent option. Equipped with far-infrared radiators, the sauna produces therapeutic infrared light and heats up super quickly. With the Relax portable sauna, you can get a complete body sauna experience and detoxify conveniently and quickly. The Relax Sauna is a compact, lightweight and portable sauna which makes it a great choice.
---
Relax Saunas: www.relaxsaunas.com/matt
Relax Sauna Discount Code: use coupon code justice at checkout for an additional discount for our subscribers
---
Features
Dimensions: 2.6ft (w) x 2.6ft. (l) x 3.8ft (h)
Weight: 33 lb
2 FIR radiators
Timer switch
Collapsible sauna tent
2 support poles
Folding nylon chair
Includes a carrying bag
30-day money-back guarantee
Benefits
The Relax Sauna is a top-quality infrared sauna that uses ceramic semiconductor chips to produce 1,500 watts of pure infrared light and makes you sweat profusely in just 15 minutes. In addition to the greater wattage, the Relax infrared sauna also provides more focused energy, which impacts the water molecules in the body, increasing the microcirculation, boosting ATP synthesis and offering greater detox benefits.
The semiconductor chips in the Relax Sauna help to filter out all the non-resonating near-, mid- and far-infrared energies so that you get only pure FIR, which resonates with the body's water cells and pulsates them offering greater detoxifying benefits.
The patented and award-winning Relax portable infrared sauna offers excellent health benefits at a very affordable price. The Relax portable infrared sauna has a compact, lightweight and portable design and offers you a safe and comfortable sauna experience right in your home.
Portable infrared saunas are extremely convenient that offer you the relaxing benefits of sauna therapy anytime and anywhere. You don't need a lot of space to set it up, you can carry it with you when traveling and you can tuck it away in your closet or under the bed after use.
All the 3 sauna models in our review are great for relaxation and offer detoxifying benefits and they are conveniently portable too and you can compare the models and choose the one you think is the best for you.
---
Therasage Thera360 Plus Portable Sauna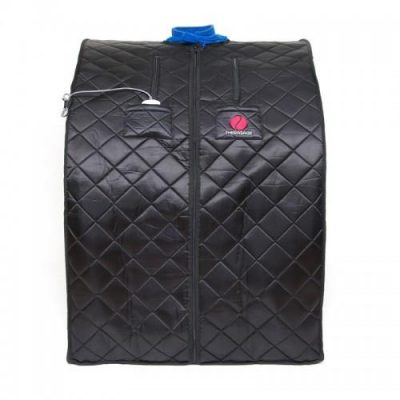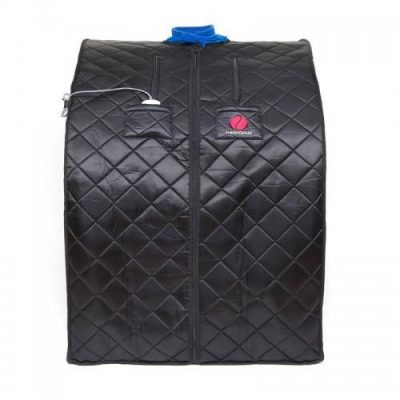 If you're looking for a natural and effective way to detoxify, then the Thera360 Plus from Therasage is the most advanced full-spectrum portable infrared sauna that offers the perfect detox experience. The Thera360 Plus sauna blends ease of use, portability and convenience to offer numerous benefits.
---
Therasage 360 Discount: www.therasage.com/IR-expert
Use coupon code justice (all lower case) for an additional discount for all subscribers)
---
Specifications
Dimensions: 33″ (w) x 37″ (l) x 46″ (h)
Weight: 26 lb
Made of natural bamboo
Temperature Range: 100oF-170oF
Full-spectrum infrared (red and enhanced near light)
Dual-specialized multi-frequency enhanced red and near-infrared light panels
Extremely low ELF, RF and EMF
Tourmaline stones for negative ions
Advanced Earthing Technology (AET)
LED controller
Folding bamboo chair and bamboo foot pad
No VOC and non-toxic fold-up cabin
Zip-out terry cloth collar
Convenient carry case
DNV certified
Material toxicity and biocompatibility tested
1-year limited manufacturer's warranty
Benefits
The Thera360 Plus portable infrared sauna offers all the healing benefits of the sun's energy. With grounding, no exposure to EMFs and negative ions, the Thera360 Plus sauna is the best way to stay healthy. The Thera360 Plus sauna features Tri-Lite panels, which are equipped with LEDs that emit therapeutic light frequencies in 849 nm (near-infrared spectrum) and 660 nm (red spectrum).
The gentle heat produced by the sauna helps to raise your core body temperature, helping to gradually eliminate toxins, including heavy metals from the body. The sauna is equipped with TheraFusion Infrared Technology and Natural Earth Element full-spectrum heating panels featuring natural tourmaline gemstones.
The Thera360 Plus sauna produces negative ions and full-spectrum infrared frequencies that cover your body gently without any exposure to dangerous EMFs, ELFs and RFs. The sauna features AET (Advanced Earthing Technology) that helps to improve the healing benefits by making use of the Earth's charge to stabilize the body's polarity and enhance cellular communication.
The infrared frequencies create a wavelength or vibration that produces bio-resonance, which helps to mobilize all the toxins in the body. When the detox pathways switch on in the body, it helps to expel the toxins effectively. The Thera360 Plus sauna also helps to restructure the water in the body, creating effective cellular communication and the water also helps to flush out the toxic waste from the cells.
The Thera360 Plus Sauna is a lightweight, compact and portable sauna that can be easily folded and stored conveniently in your cupboard or under your bed. With loads of features and a very affordable price tag, the Thera360 Plus Portable Sauna is among the best infrared devices on the market.
---
Synergy Sauna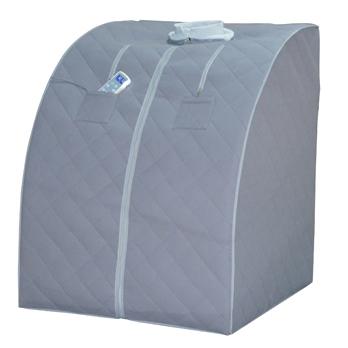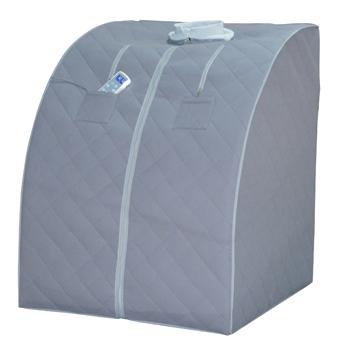 Manufactured by Synergy Science, Synergy Sauna is a portable 1-person infrared sauna, perfect for detoxification. The full-spectrum Synergy Sauna makes use of near- and far-infrared rays to produce gentle and therapeutic heat, which penetrates your body deeply and provides complete relaxation and health benefits. The infrared sauna is easy to set up and extremely affordable too.
Specifications
Dimensions: 27" (w) x 32" (d) x 38" (h)
Weight: 19 lb
Made of antibacterial bamboo fabric
Temperature Range: 113°F -140°F
Timer Range: 5 min – 95 min
Sauna and Therapy modes
Full Spectrum Heating Panels (near-, mid, and far infrared)
Ultra-low EMF and ELF
Black tourmaline (every 4")
Heater with green tourmaline gemstones
Ozone generator
Temperature controls for foot section and interior heat panels
3 washable and reusable sweat collars
Foldable portable chair
30-day return policy
1-year warranty
Benefits
When choosing the best infrared sauna for detoxification purposes, you need one that produces true infrared waves that are powerful and penetrating. The Synergy Sauna features heating panels with 87% spectral emissivity and tourmaline that produce deeper and faster penetrating infrared.
The panels are designed to produce frequencies close to the optimal 9.4 microns frequencies, which results in the best cellular vibration (resonance frequency) that causes the cells to shake off more toxins when compared to using regular carbon panels, leading to effective detox.
The Synergy Sauna is made of high-quality, eco-friendly bamboo fabric. The sauna has a temperature range of 113°F – 140°F and in just 5 minutes, it can reach a maximum temperature of 140 degrees. The heating panels feature black tourmaline stones on a grid every 4 inches, which helps to reduce the EMF. The full-spectrum sauna makes use of ultra-thin and superconductive carbon fiber with ultra-low EMF. And, the high-heat efficiency of the sauna makes you sweat profusely, promotes blood circulation and in turn, keeps your body healthy.
The sauna has built-in oxygen and ozone therapy and the ozone generator helps to keep the sauna free of bacteria. The sauna has 2 separate temperature controls—for the interior panels and the foot section. The high-quality Synergy Sauna comes with removable and washable sweat collars and a foldable portable chair.
The attractive slate gray Synergy Sauna blends with your home décor and comes at a very affordable price. Extremely lightweight and compact, you can carry the portable infrared sauna anywhere you go.