Just the thought of going for a sauna session is enough for your body to sink into a state of relaxation. But, just imagine if you could access a sauna anywhere at all. Wouldn't that be a dream come true?
Well, now that's a possibility. It is possible to carry an infrared sauna device wherever you go and take full advantage of the benefits a sauna offers. A portable infrared sauna can do this and more. It offers all the relaxation and health benefits of a full-fledged sauna in a compact, portable size.
What Is a Portable Infrared Sauna?
Portable saunas are quickly becoming extremely popular because of the ease of setup and use. These saunas run on infrared technology. As compared to a traditional sauna, the portable infrared sauna may heat differently; however, it is equally effective. And, the best part about a portable infrared sauna is its ease of use and affordability, which makes it an excellent choice for homeowners.
Today, you can find a wide range of portable saunas on the market—metal frames, wooden frames, moisture-resistant polyester materials, etc. Usually, the portable sauna is powered by infrared carbon fiber heating panels and are quite energy efficient. The infrared sauna usually comes with a portable chair for you to sit on.
There are so many choices of brands, types and models of portable infrared saunas on the market that the choice of the best one can be quite a difficult one to make. In this article, we will discuss the top-rated portable infrared saunas. So, read on to know more.
---
Top 3 Portable Infrared Saunas
Relax Sauna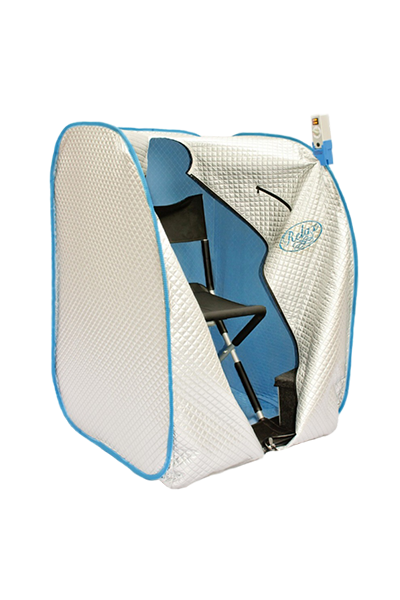 Looking for an advanced, high-quality personal portable infrared sauna? The Relax Sauna portable infrared sauna is surely a good choice. The infrared sauna features radiators that emit far infrared light and heats up the sauna very quickly. You can get a complete body sauna experience conveniently with the Relax portable sauna in just 15 minutes. The light weight and portability make the Relax Sauna a firm favorite.
---
Relax Saunas: www.relaxsaunas.com/matt
Relax Sauna Discount Code: use coupon code justice at checkout for an additional discount for our subscribers
---
Features
Dimensions: 2.6ft (w) x 2.6ft. (l) x 3.8ft (h)
Weight: 33 lb
2 FIR radiators
Timer switch
Collapsible sauna tent
2 support poles
Folding nylon chair
Comes with a carrying bag
30-day money-back guarantee
Benefits
Featuring an FIR (far infrared) heat source, the Relax Sauna is a top-quality personal infrared sauna. The infrared sauna uses 1,500 watts of energy to produce intense healing light. Compared to the other models in the market, the Relax portable infrared sauna offers more focused energy of greater wattage.
The Relax portable infrared sauna features ceramic semiconductor chips that help to filter out all the non-resonating near-, mid- and far-infrared energies so that you get only pure FIR (between 4 and 14 microns). The FIR resonates with the body's water cells and pulsates them offering greater therapeutic and detoxifying benefits.
At a fraction of the cost compared to other infrared saunas, the patented and award-winning Relax portable infrared sauna offers positive outcomes for various health conditions. The sauna is compact and portable and comes with a carrying case and a portable chair. The Relax portable infrared sauna's compact, lightweight and portable design offers you a comprehensive and safe sauna experience right in your home.
Choosing the right portable infrared sauna requires a lot of time, effort and care. However, before you actually go out and purchase one, make a list of the features and functions that are important to you. The products we have reviewed here are all safe, practical, effective and affordable. So, take a close look and pick a portable infrared sauna that is a perfect fit for your lifestyle and needs.
Therasage Thera360 Plus Portable Sauna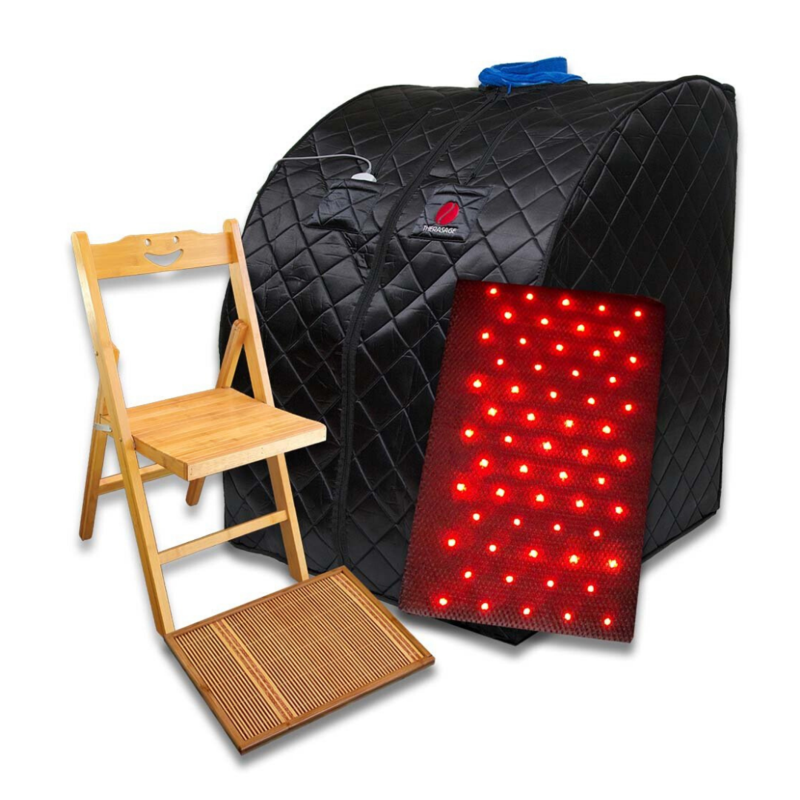 If you're on the lookout for the perfect portable infrared sauna, then the Thera360 Plus from Therasage is an unbeatable option. The infrared sauna offers all the benefits of LED and full-spectrum infrared technology. The Thera360 Plus is a top-quality portable infrared sauna that combines portability and ease of use.
---
Therasage 360 Discount: www.therasage.com/IR-Expert
Use coupon code justice (all lower case) for an additional discount for all subscribers)
---
Specifications
Dimensions: 33″ (w) x 37″ (l) x 46″ (h)
Weight: 26 lb
Made of non-toxic and natural bamboo
Temperature Range: 100oF-170oF
12-inch cord
Full-Spectrum Infrared (red and enhanced near light)
Dual-Specialized Multi-Frequency Enhanced Red and Near-Infrared Light Panels
Extremely low ELF, RF and EMF
Tourmaline stones for negative ions
Advanced Earthing Technology (AET)
LED controller
Bamboo foot pad
Folding bamboo chair
Oversized fold-up cabin (non-toxic and no-VOC)
Zip-out terry cloth collar
Comes with a convenient carry case
Certified by DNV
Tested for material toxicity and biocompatibility
1-year limited manufacturer's warranty
Benefits
The Thera360 Plus Portable Sauna from Therasage is equipped with Tri-Lite panels that help to improve the near-infrared emission and they also add red light frequencies for a better experience. The Tri-light panels of the sauna are equipped with LEDs that emit healing light frequencies in 849 nm (near-infrared spectrum) and 660 nm (red spectrum).
The Thera360 Plus Sauna features TheraFusion Infrared Technology and Natural Earth Element full-spectrum heating panels that have natural tourmaline gemstones. The sauna produces negative ions and full-spectrum infrared frequencies that cover your body gently without any exposure to harmful EMFs, ELFs and RFs.
The infrared sauna is equipped with AET (Advanced Earthing Technology) that boosts the healing experience by using the earth's charge to balance the body's polarity and improving cellular communication. The infrared sauna has a temperature range of 100oF-170oF that can be controlled using the LED controller.
The Thera360 Plus Sauna is a lightweight and compact infrared sauna that can be easily folded and stored conveniently in your closet or under your bed. The sauna comes with a carry bag that allows you to carry it conveniently wherever you go. With plenty of features and a very affordable price, the Thera360 Plus Portable Sauna is one of the best infrared devices on the market.
---
Synergy Sauna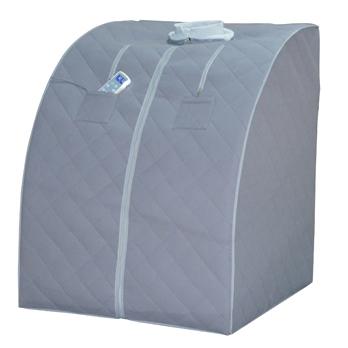 The Synergy Sauna is a portable infrared sauna that is manufactured by Synergy Science and is perfect for one person. The sauna uses near- and far-infrared rays to produce gentle heat that penetrates your body deeply and provides complete relaxation and health benefits. The low-EMF Synergy Sauna is very affordable, is very easy to set up and can be used conveniently in your home. You need to just plug it into your home's power source and you can start using it.
Specifications
Dimensions: 27" (w) x 32" (d) x 38" (h)
Weight: 19 lb
Made of antibacterial bamboo fabric
Timer Range: 5 minutes to 95 minutes
Temperature Range: 113°F -140°F
Sauna mode and Therapy mode
Full Spectrum Heating Panels
Ultra-low EMF and ELF
Black tourmaline every 4 inches
For heater with green tourmaline gemstones
Ozone generator
Temperature controls for foot section and interior heat panels
3 washable and reusable sweat collars
Foldable portable chair
30-day return policy
1-year warranty
Benefits
Made of high-quality, eco-friendly bamboo fabric, the Synergy Sauna is a full-spectrum 1-person portable infrared sauna. The infrared sauna features ultra-thin carbon fiber ultra-low EMF heating panels with less than 0.3 milligauss emission. The heating panels are equipped with black tourmaline stones on a grid every 4 inches that help to reduce the EMF further.
The portable sauna has a temperature range of 113°F-140°F and can reach the maximum temperature in just 5 minutes. The Synergy Sauna has in-built ozone and oxygen therapy, usually found in expensive sauna models. The built-in ozone generator keeps the sauna bacteria-free. The infrared sauna is equipped with separate temperature control for the foot section and one for the interior panels.
The Synergy Sauna comes with a foldable portable chair that allows you to sit comfortably inside the sauna cabin and the sauna comes with removable and washable sweat collars. The attractive-looking Synergy Sauna comes with a very affordable price tag and can be set up anywhere in your home. The sauna is extremely compact and lightweight and you can carry it along easily wherever you go.